The 10G revolution has started: DOCSIS 4.0 offers over 10 times the current speed – without digging.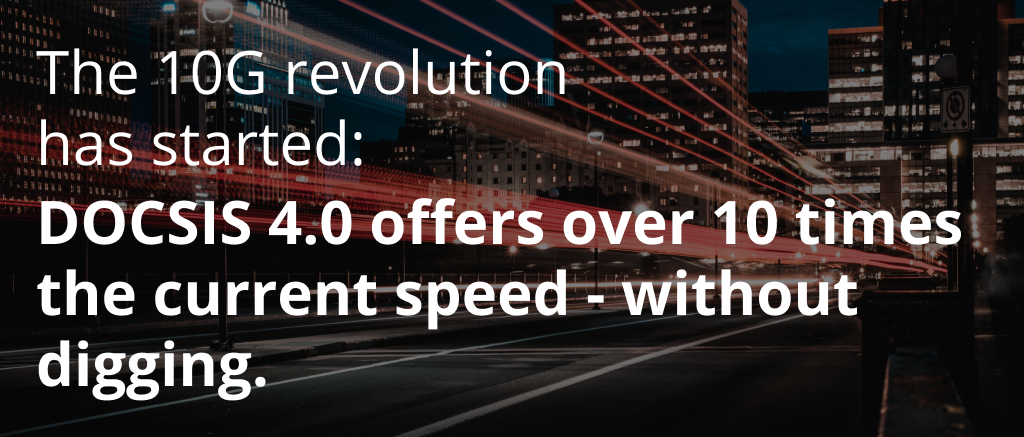 Yesterday is history and tomorrow is a mystery, but one thing is certain: to deliver the immersive experiences and advanced functionalities that tomorrow's subscribers demand, we need an ever better, faster, stronger network. Does that mean the future is fiber dominant? In this blog post, we explore why DOCSIS 4.0 is the most cost-effective path to offering fiber speeds – without digging up the streets.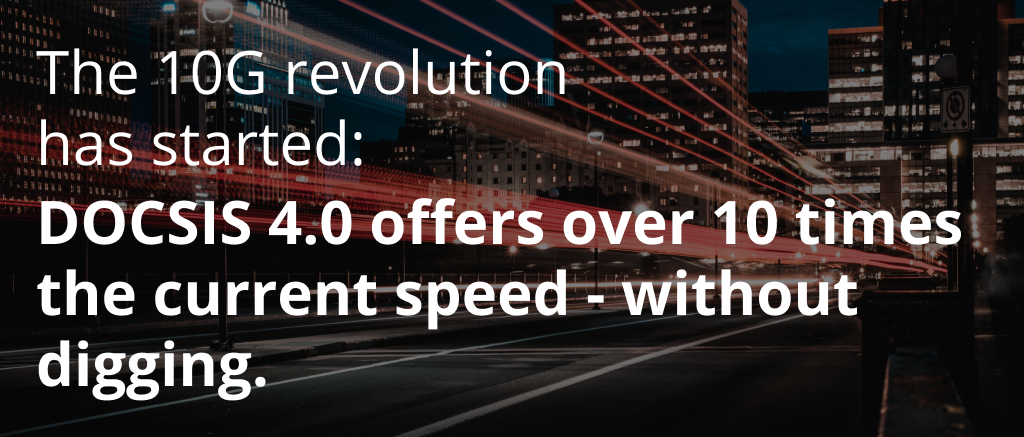 Next-generation broadband: 10G
Current DOCSIS 3.1-based broadband networks enable 1-gigabit/second download speeds. Adequate now, but this will not be sufficient to meet the high-speed connectivity needed in the near future to enable simultaneous 4K/8K video streaming, low-latency gaming, virtual and augmented reality, extensive home working with frequent conference calls and, who knows, a proliferation of the metaverse.
The good news: the potential for a 10x acceleration here – thanks to DOCSIS 4.0.
The DOCSIS 4.0 specification makes way for 10G broadband. Building on the significant improvements achieved with DOCSIS 3.1, the 4.0 version tops it all off, offering plenty of advantages, from symmetrical upload and impressive download speeds (10 Gbps downstream, 6 Gbps upstream) to excellent consistency, reliability and tightened security in a scalable way.
In world premiere: The first DOCSIS 4.0 live network demonstration!
To explore the viability of DOCSIS 4.0, VodafoneZiggo partnered with Excentis to perform the world's first DOCSIS 4.0 test on a live network:
The results were so robust that VodafoneZiggo have committed to rolling out DOCSIS 4.0 in the Netherlands by 2025.
This live dashboard plays an important role in clearly visualizing the output of the test, and convincing a wide range of shareholders, including current and future subscribers.
Read: World Premiere! Excentis supports first live DOCSIS 4.0 test by Liberty Global & VodafoneZiggo with traffic generation and live dashboards!
The cost-effective path to 10G: optimize the ROI of your current network without digging up the streets
This is great news for both operators and their customers. As a network provider, you don't have to invest in the expensive network upgrades – nor the expertise – needed for fiber. Upgrading the existing network is enough to facilitate fiber-like speeds at over ten times the current standard.
Your customers, for their part, will love the multigigabit speed and the increased reliability and security – without having to pay the high tariffs needed to recoup the investment in fiber, or noise and inconveniences that come with digging up pavements.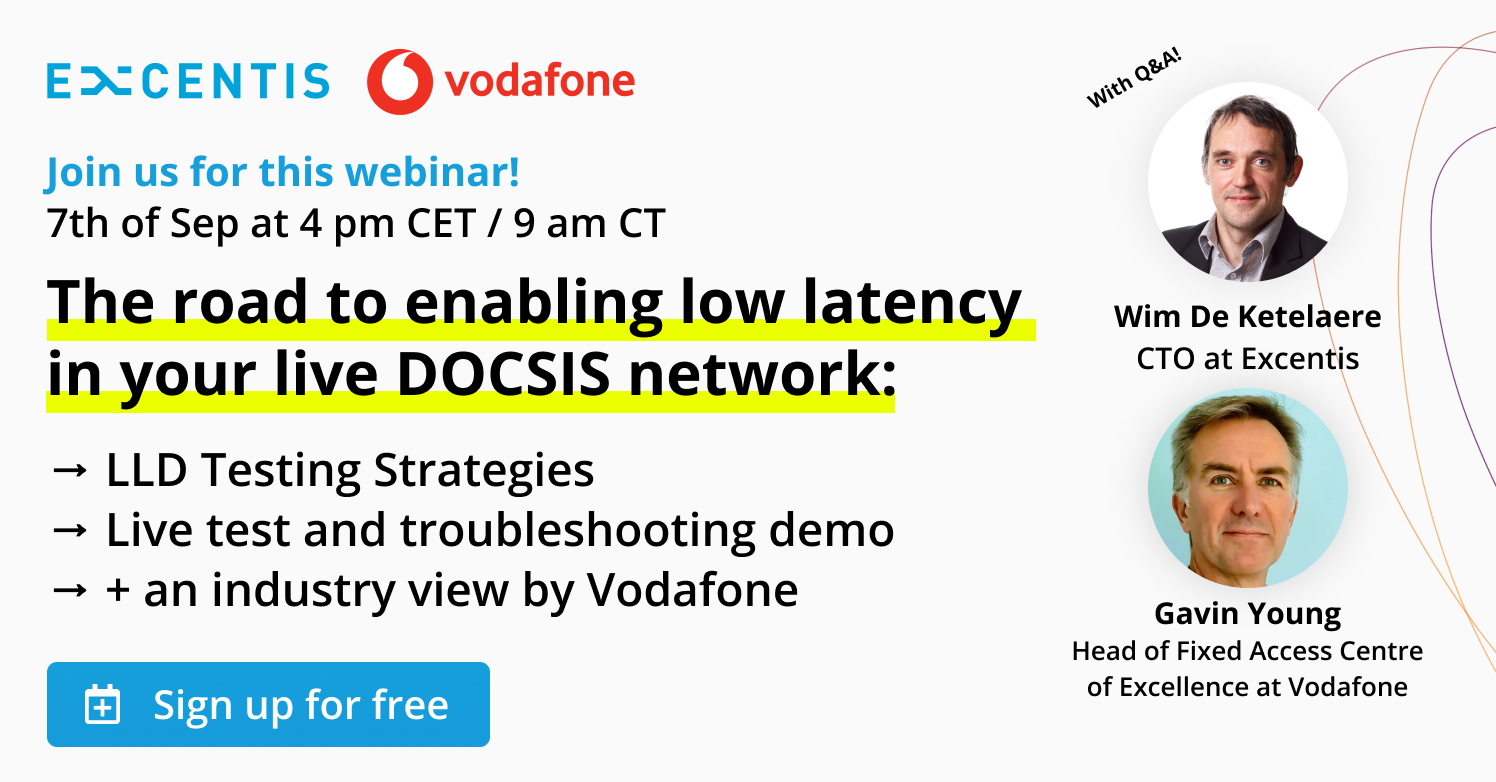 Partner up with our DOCSIS experts to get the best out of your network, increase customer satisfaction and lower costs.
Want to roll out 10G rapidly, at low cost and with peace of mind? At Excentis, we can help you get the best out of your existing network. Thanks to our expert advice and extensive testing you can count on a controlled transition, minimizing the risk of bugs or issues drastically, and all the costs those bring. And if issues should arise, your team or ours can rapidly identify the root cause, with our XRA-31 DOCSIS protocol analyzer, and quickly resolve the issue.
No customer complaints, long list of service tickets, extra movements or need to hire experts: you can trust on Excentis to get you ready for the 10G revolution – so you can offer your customers the next-generation speeds, connectivity, and fantastic services they're looking for – without breaking the bank… or the ground.
Supercharge your DOCSIS operations with Excentis
Network Consultancy by DOCSIS experts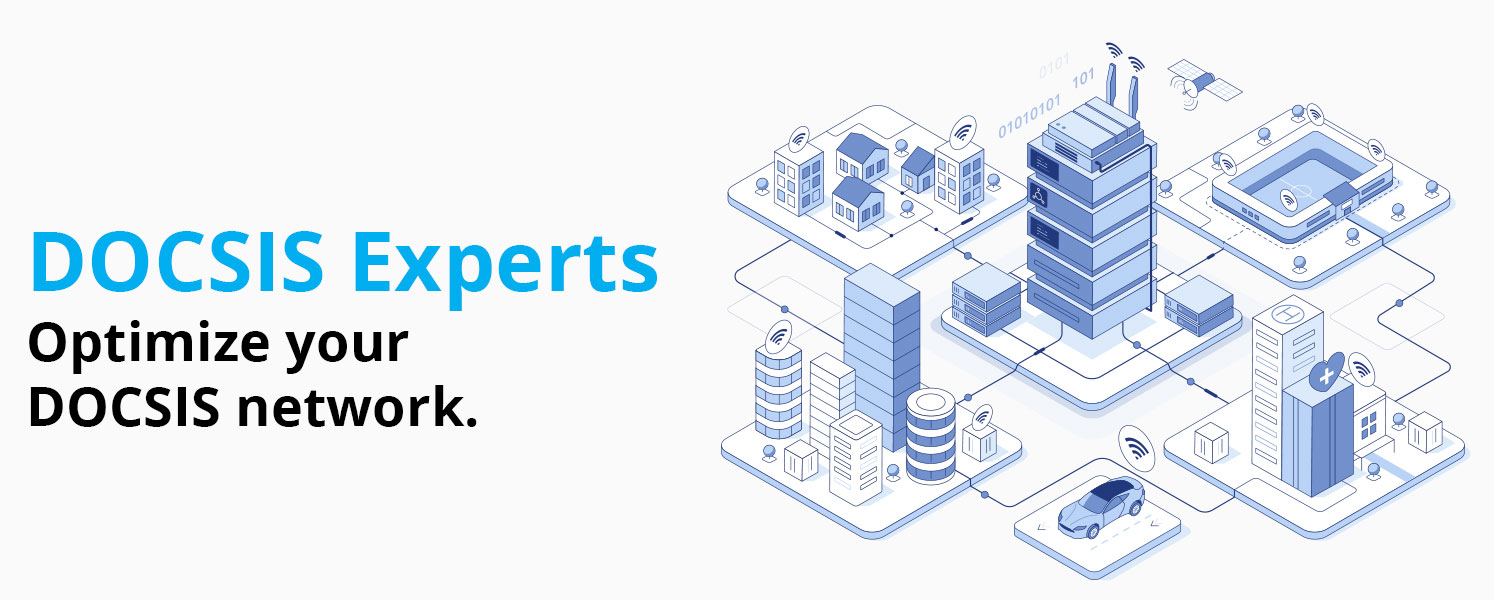 With over 20 years of experience, Excentis has a proven track record in DOCSIS and cable network technology, offering consultancy services, training and products.
In addition, we assess equipment, designs and architectures for equipment manufacturers, OEMs and ODMs, vendors, software, and chip developers, a broad range of clients.
How can we help you? Contact us here.
Level up your team: DOCSIS Network Training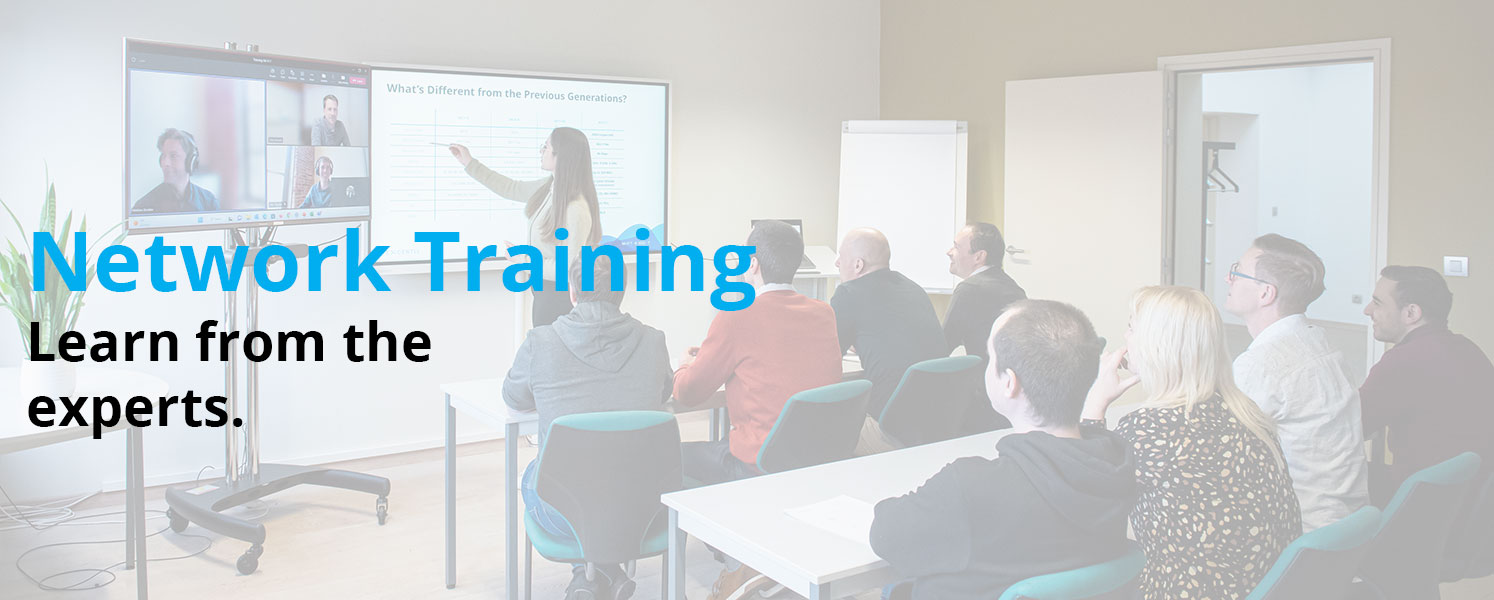 Learn from the experts with years of field experience, remote, at Excentis or at your company or external location.
Lower your troubleshooting costs: XRA-31 DOCSIS Protocol Analyzer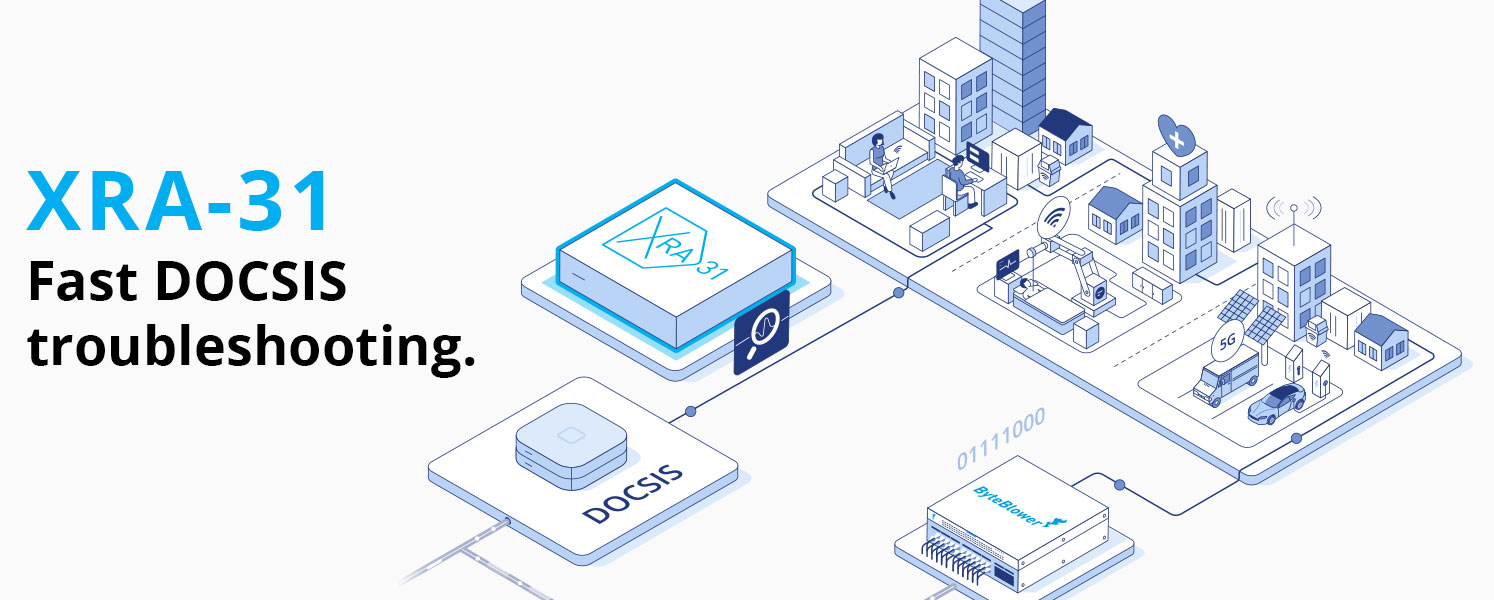 Testing or troubleshooting DOCSIS issues can be tedious and slow, requiring a lot of hours and frustration to determine the root cause and fix the problem.
We made a quick calculation, so you don't have to:
1000 calls per day at € 10/day → € 10.000 per day
Much slower resolution without an XRA-31, say by 30 days → € 300.000
Unhappy customers cause churn, and the cost of churn is huge:
1000 customers leaving at € 40/m → € 40.000 per month or € 480.000 per year
Needless to say, getting to the root cause fast saves a lót of money and avoids customer complaints or even customers leaving.
And it gets better: The XRA-31 is available as a product for your lab, for rent in need, or as a service, leveraging our expertise as DOCSIS experts to uncover the root cause fast.
We wrote a free eBook with 3 quite unique behind the scenes views on problematic issues, how the root cause analysis was tackled, and how the issues were eventually solved → download here
Proper testing with realistic simulated traffic: ByteBlower Traffic Generator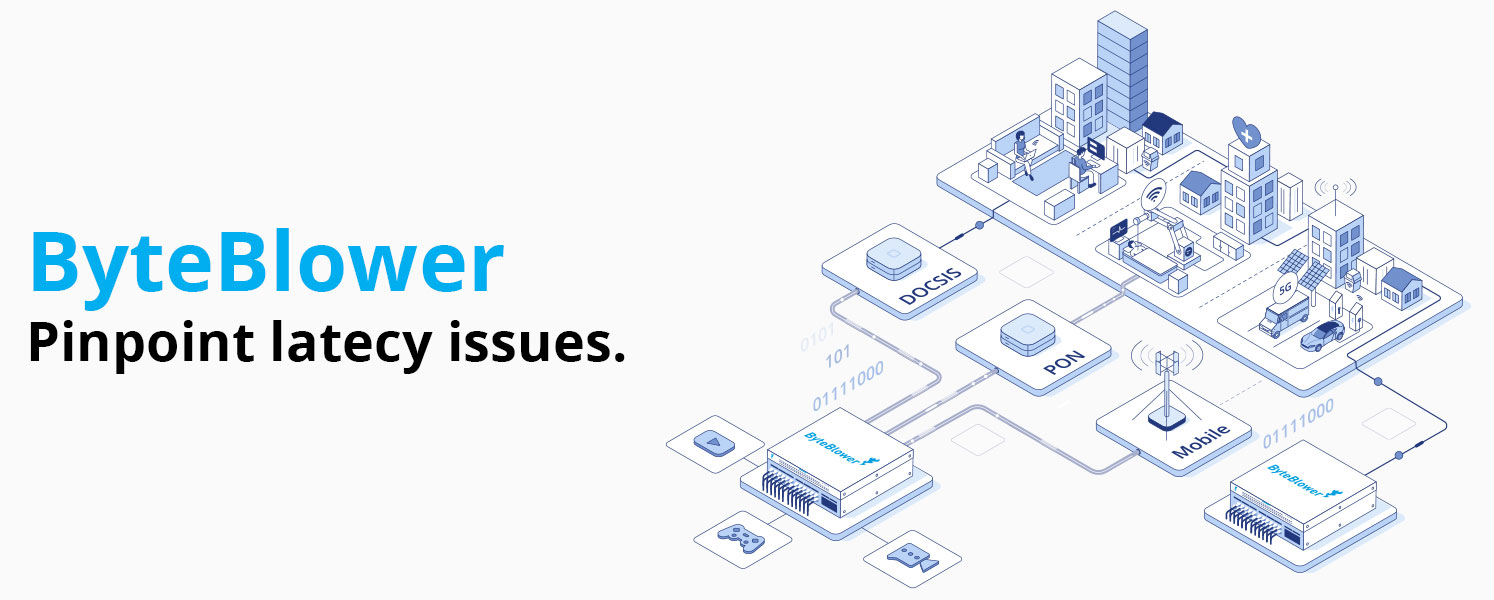 Whether you want to optimize your network performance, verify new technologies or monitor units in production: it all starts with a reliable assessment, independent of the underlying technology.
Don't waste time with over-complex tools, ad-hoc set-ups, or manual tests.  ByteBlower Traffic Generator is the industry standard network testing Swiss army knife that helps you assess and measure the real-world performance of every component easily and quickly, simulating real-world traffic like streaming video, conference calls or gaming.
ByteBlower is already used by over half of tier 1, 2 and 3 operators in Europe and the USA.
Let us tell you why and how:
Contact us
Join us with Vodafone for our webinar on enabling low latency in your live DOCSIS network – for free!
Join our CTO and industry expert Wim De Ketelaere:
On Low Latency DOCSIS testing strategies
As we perform a live test and troubleshooting demo
With an industry view by Gavin Young from Vodafone
And of course with ample time for Q&A!
The 7th of September at 4 pm CET / 9 am CT, sign up for free using the link below.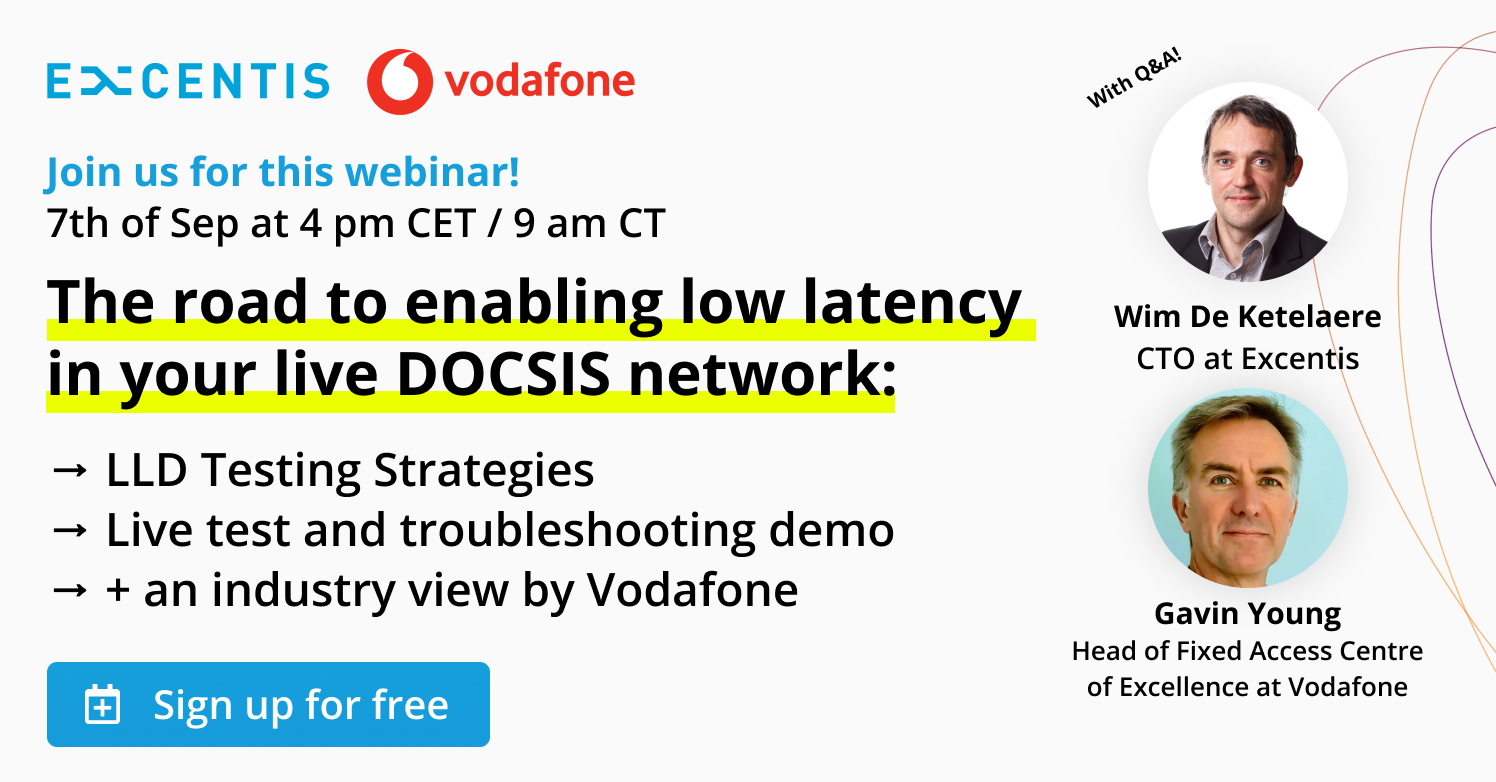 How can we help? Let's talk!