Preparing yourself for DOCSIS 3.1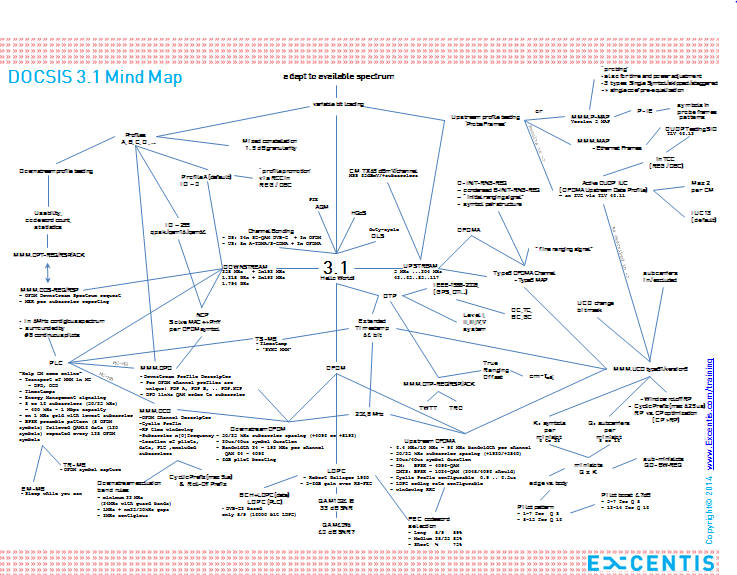 Will it turn out to be a marathon, or will 10 miles do this time?
If understanding DOCSIS 3.0 was running 10 miles, how far will I need to run before I understand 3.1? Is the terrain rough and hilly or will it be a walk in the park?
You want to prepare yourself for a new technology just like you would prepare for a run or a hike. In order not to run out of energy or get lost the best thing you can do is find yourself a good guide, coach or mentor. Someone who can inform you about the road ahead, someone who has a roadmap and knows the track. Like that, you will have a sense of direction – and you can estimate how far or hard it will be for you.
Therefore, let me provide you with a mind map of the DOCSIS 3.1 technology.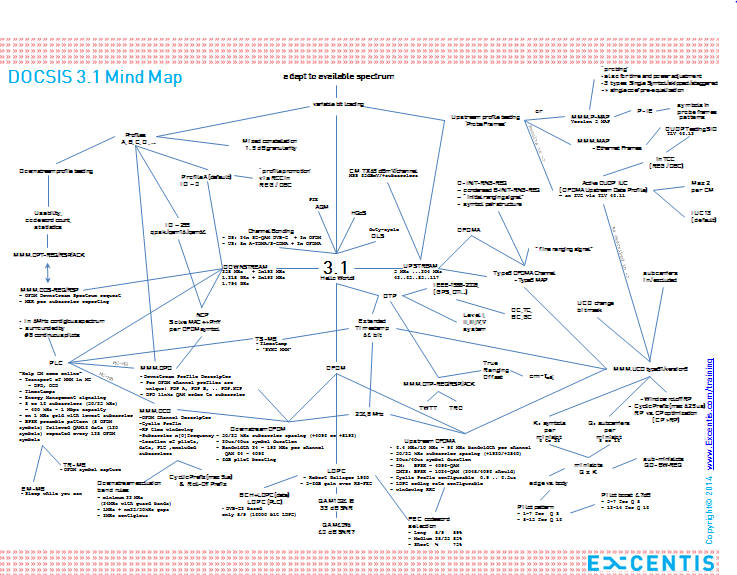 Take some time to stroll around. Want some guidance?
Start in the center "3.1 Hello World". Walk north and pass by new features like HQoS, AQM and DLS.
Continue north to find out that 3.1 is all about adaptation of the modulation in the (new) available spectrum.
Head west for the downstream technology and understand that profiles, described by DPD  messages, are the fundamental concept which enables 3.1 downstream to adapt to the available signal-to-noise ratio.
East you will find the same concept of adaptive-modulation (this time for the  upstream direction) where profiles are implemented as OUDP's. Meet P-MAP (MAP's sister) who is responsible for upstream spectrum-based profile testing, and learn that frame based testing is possible using the OUDP testing SID.  Familiar upstream concepts from 3.0 like MAP's, UCD's and minislots remain to exist in 3.1, but did receive a major makeover.
Explore the south and come across OFDM and LDPC which make 3.1 jump as high as QAM 4096 if the signal-to-noise ratio is available.
Take a stop in the southwest and find out that the PLC is the only option you really have if you truly want to understand a 3.1 downstream channel.
So, tell me, how steep will your learning curve be? Is this 10 miles or are you facing a marathon?
And then again, you don't need to run the distance – walking is as healthy. You will pick up more details and there is less chance of getting lost!
HQoS: Hierarchical QoS
AQM: Active Queue Management
DLS: DOCSIS Light Sleep
DPD: Downstream Profile Descriptor
OUDP: OFDM Upstream Data Profile
P-MAP: Probe MAP
OFDM: Othogonal Frequency Division Multiplexing
LDPC: Low Density Parity Check
PLC: PHY Link Channel