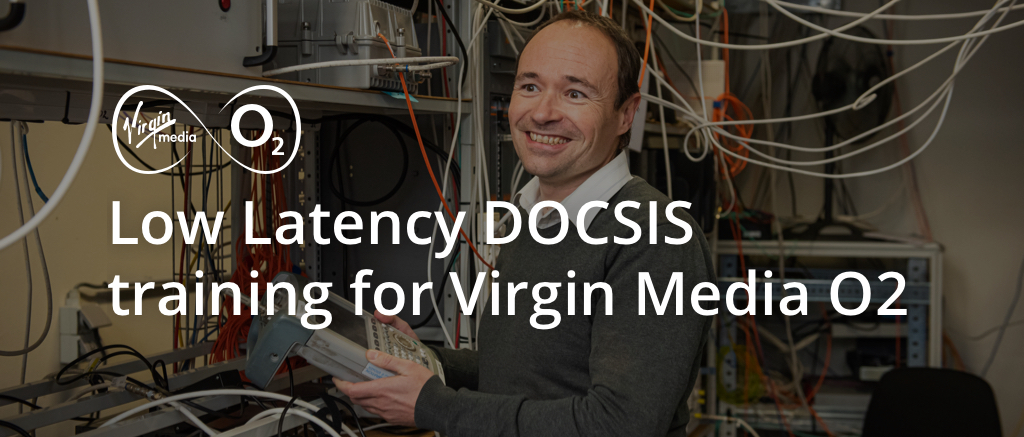 Low Latency DOCSIS training for Virgin Media O2
DOCSIS
Low Latency DOCSIS
Training
In July 2022, Excentis organized its first Low Latency DOCSIS (LLD) training program for Virgin Media. The training consisted of a half-day DOCSIS refresher, a half-day theory session on LDD and a full-day hands-on workshop with exercises using our ByteBlower Network Traffic Generator, ByteBlower GUI and a vCCAP with cable modems set up in our lab.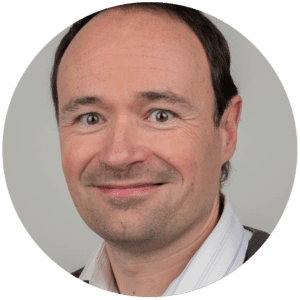 "LLD provides a cost-effective means of leveraging the existing hybrid fiber-coaxial (HFC) network to provide a better internet experience for latency-sensitive applications without any negative impact on other applications. Overall, we can say LLD has a big potential but needs quite some effort before deploying. We teach engineers and teams the knowledge and tools they need."

– Bart Neirynck, Principal Engineer and Head of Training

About Virgin Media
Virgin Media O2
is one of the leading broadband, TV, and telephone providers in the UK. In May 2020, Liberty Global reached an agreement with Telefónica to merge their UK businesses, Virgin Media and O2. The merger was completed on June 1, 2021. With 18,700 employees,
Virgin Media O2 currently serves over 47 million broadband, mobile, TV and home phone subscribers
throughout the country.
Mastering Quality of Experience with LLD
In recent years, network providers have shifted their focus from speed to user experience (UX). Latency and jitter, which were once central considerations (e.g. for voice services) have regained significance with the rise of applications such as video conferencing, gaming, VR, and AR. In addition, Quality of Experience Delivered, or QED for short, has become central.
Another driving factor is the increasing competition between major access network technologies, and Service Level Agreements (SLAs), as enterprise customers demand high Quality of Service (QoS) standards, including bandwidth and latency.
All of this contributes to the growing importance of Low Latency DOCSIS (LLD). By using a dual queue approach and specific Active Queue Management or AQM algorithms, LLD ensures that the right quality is delivered to the right customer applications on the DOCSIS layer, thus significantly improving the QoE of customer applications.
A customized training program for Virgin Media
Before deploying LLD, it is crucial to test all possible scenarios and configurations, using realistic traffic patterns. Next to simulating real applications (such as gaming or video conferencing), an important part of the test is also the analysis of the results. This includes analyzing the latency distribution (e.g. a CCDF plot showing latency percentiles), jitter, latency variation over time (spikes or tendency), packet loss, … Simply looking at the average latency may give a false perception of good service, as a continuous period of high latency can have a much worse impact on the UX than when spread out over time.
An example that visualizes the test output is shown on the ByteBlower report graphs below. The left image showing the latency CCDF plot and the right one the min., avg., max. latency plus jitter over time.
To help our customer Virgin Media gain insight into LLD, we organized a customized two-day training program, including:
A theoretical session on DOCSIS and LLD
A hands-on workshop with various realistic exercises, using the Python API and ByteBlower Test Framework
Day 1: theoretical background
The first day of the training program was dedicated to gaining a solid understanding of Low Latency DOCSIS. In the morning, we revisited some key DOCSIS concepts that are critical to comprehending LLD. In the afternoon, participants delved into the theoretical foundations of LLD and its importance. We covered the history and evolution of lowering latency, focusing on the following topics:
Media access improvements
Buffering
Dual queue AQM
HQoS ASF
Provisioning
Deployment considerations
Performance and reporting
Laboratory testing
"Throughout the course, we could always ask questions and engage in discussions with the trainers and our peers. This interactive format really added to the overall learning experience."

–  Damian Johnstone, Senior Manager Access Platform Engineering at Virgin Media.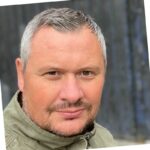 Day 2: hands-on workshop
Part 1: Low Latency implementation in ByteBlower 
The first part of the workshop allowed participants to put some concepts from the theoretical training into practice. All participants were given access to various CMTS/CM setups and exercises on the following topics:
AQM with various latency targets
Proactive Grant Scheduling (PGS)
The effects of C-SF vs. LL-SF, Queue Protection, different speeds and more on LLD
The ByteBlower GUI was used to configure test cases that demonstrated the impact on latency measurement, where each participant had their own set of traffic flows to experiment with. An example of one of the LLD exercises, is shown in the CCDF graph below. The low-latency service flow (orange line) exhibits significantly lower latency values compared to the classic service flow (blue line).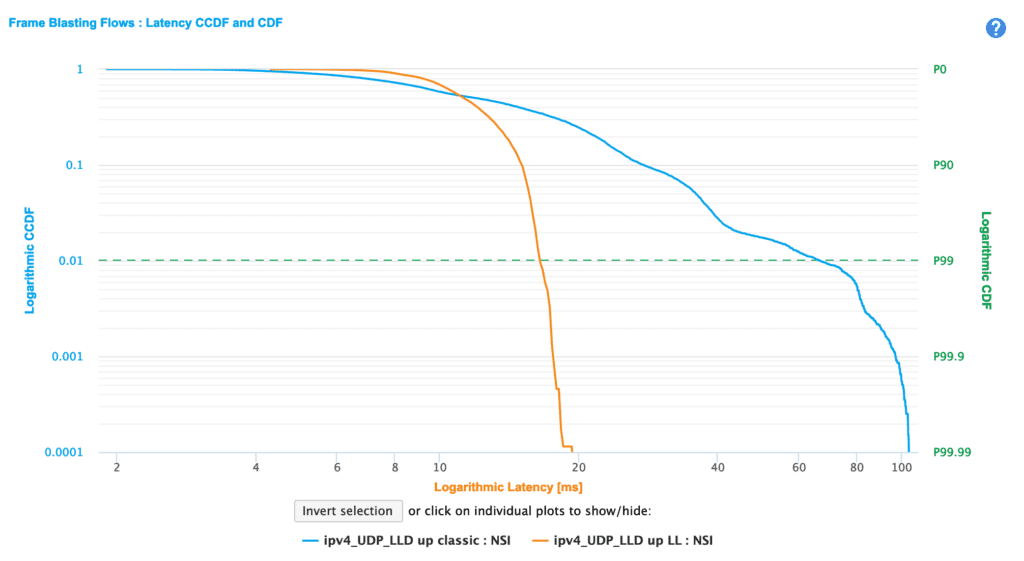 "We are very grateful for Excentis' support", adds Senior Manager Access Platform Engineering Damian Johnstone. "Thanks to the training program, we are confident that we will be able to significantly enhance customer service satisfaction in the future."

– Damian Johnstone, Senior Manager Access Platform Engineering at Virgin Media.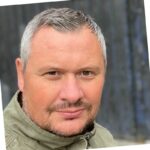 Part 2: Python API and ByteBlower Test Framework with realistic traffic patterns
During the second part of the workshop, we used the Python API and ByteBlower Test Framework to simulate realistic traffic patterns (such as gaming flows) and analyze the results.
Here, the goal was to provide insights into:
Key differences between traffic types (applications)
Traffic type impact on Quality of Experience Delivered (QED)
The first few exercises were designed to demonstrate the strengths of the ByteBlower python API. We provided the example scripts, so the participants wouldn't have to write any code. Instead, they modified the configuration files and analyzed the test results as a group.
Next, we reviewed the ByteBlower Test Framework. This is a tool by Excentis to make the API more accessible to the end user without having to write lengthy scripts. A simple JSON file is used to configure the test, serving as input for the script that simulates realistic traffic patterns. The output provides latency/jitter plots over time and analysis to set a pass/fail result.
At the end of the session, we covered some interesting topics related to the use of ByteBlower and real-time monitoring in the GUI using Prometheus and Grafana. We concluded the workshop with a Q&A session and general discussion.
"Excentis was the perfect partner to deepen our knowledge of Low Latency DOCSIS. We were able to discuss our specific needs and develop a customized training program. We now have a clear understanding of how to improve QoE and the ability to test it in our own labs."

– Damian Johnstone, Senior Manager Access Platform Engineering at Virgin Media.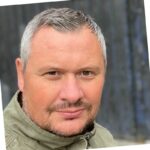 Supercharge your existing DOCSIS network cost-effectively with Low Latency DOCSIS!
A two-day interactive deep dive with refreshers and hands-on workshops into Low Latency DOCSIS by experts and engineers for you and your team. Supercharge your existing hybrid fiber-coaxial (HFC) network to provide a better internet experience for latency-sensitive applications without any negative impact on other applications.
Excentis is an expert team of network, hardware and software engineers, testers and trainers, with decades of lab and field experience, a passion for optimization, automation and natural aversion to latency. How can we help?
We're proud to work for the best in the world