How NBASE-T turbocharges networks at a low TCO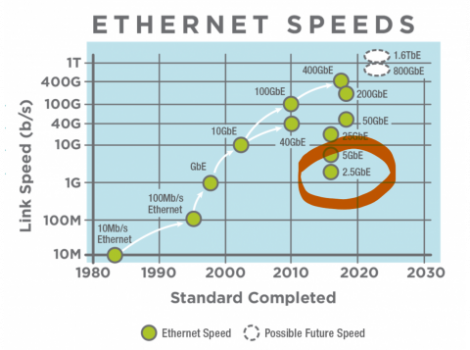 Today's digital era puts our networks and the related network technology under extremely high pressure. With the explosion of mobile devices, HD video, gaming and IoT and cloud applications, the demand for high speeds in enterprise as well as residential local area networks (LAN) is soaring. But higher speeds often require expensive new equipment or even worse: new cabling. Luckily, with NBASE-T we have other options.
Computer networks have evolved considerably since their introduction, but Wi-Fi has evolved even faster since its introduction in the late 1990s. The new generation of devices built on IEEE's 802.11ac wireless standard is able to support speeds of up to 1.3 Gbps, breaking through the 1Gbps barrier. However, that's just the beginning: the upcoming 802.11ax Wi-Fi standard delivers speeds up to 4.8Gbps – nearly four times faster. And there is no doubt that demand for devices built supporting that standard will soar … Now, the challenge is how to connect this with your existing ethernet network?
The limitations of the existing cable infrastructure
Pushing the data rate beyond the 1Gbps barrier is not easy, though, with the existing copper cable infrastructure. Close to 100% of enterprises around the world have made big investments in category 5e (Cat5e) twisted pair copper cables, which don't support throughput of over 1Gbps. Most of our homes are equipped with the same copper cabling too. Replacing this cabling with higher-speed copper or fiber optic cables would involve huge costs.
Higher speeds, same cabling
That's where the NBASE-T Alliance came in. Bringing together the world's leading network hardware experts, the NBASE-T Alliance developed a standard for products that support 2.5Gbps and 5Gbps Ethernet, without the need to replace existing cabling. Using advanced physical-layer integrated-circuit technology, the 802.3bz standard easily supports network speeds of Cat5e/Cat6 cables up to 5 Gbps at lengths up to 100m. The solutions can be deployed on next-generation network switch interfaces, wireless access points, workstations, gateways and other systems. Besides the higher speeds, the 802.3bz standard also supports Power over Ethernet, which has generally not been available at 10GBASE-T but very convenient for access points.
Testing with ByteBlower
This past year has seen the explosive growth of NBASE-T technology. Want to surpass the 1Gbps+ barrier? Excentis is happy to help network equipment vendors and network operators get ready. Call in the help of our ByteBlower traffic generator/analyzer, which now supports the new 802.3bz standard. Or, let us test your Wi-Fi network or network equipment in our dedicated WiFi home to make sure your solutions and services meet the needs of today's digital world!

Need help testing your NBASE-T-based network equipment? Or, want us to measure and proof the performance criteria (throughput, frame loss, jitter, …) of your new 2.5 Gbps or 5 Gbps Ethernet networks?
Don't hesitate to get in touch for more information.