5 key insights from our 2019 interoperability testing event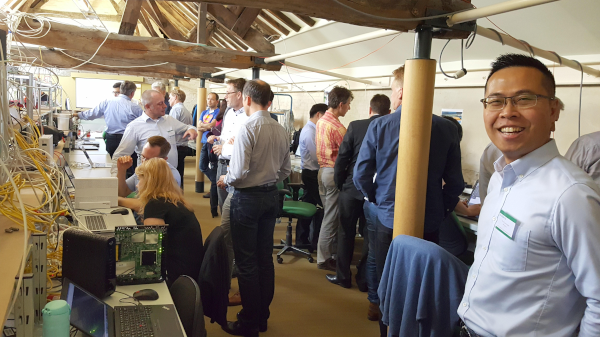 Since 2015, Excentis has been inviting the world's leading network equipment vendors to its headquarters once a year to test their DOCSIS® 3.1 products and demonstrate interoperability with other equipment. More than offering vendors a unique chance to test in a high-tech, vendor-neutral environment, the interop event is a great way to check the pulse of the industry and discuss challenges together. Here's what we learned from this year's testing week
21 of the world's leading network equipment vendors took over our labs from 20 to 24 May. Participants included developers of Converged Cable Access Platform (CCAP™), Remote PHY and MAC-PHY devices as well as manufacturers of chips, modems and PTP grandmaster clocks. On Thursday, around 50 representatives from European cable operators joined them to see their products in action. Looking back upon the event, these are our 5 main findings:
1. The market for distributed cable architecture is becoming more mature
Because every network operator seeks to transform their network to handle more traffic, interest in distributed cable architecture (DCA) like Remote PHY/MAC-PHY is booming. That boom is reflected in the growing number of Remote PHY/MAC-PHY device vendors that attend our interop event. The big difference of this year's edition was that vendors were now able to show major progress. We saw great improvement in interoperability with regards to CCAP Core and R-PHY, OFMDA support has matured significantly and there is growing support for the R-OSSI feature (diagnostics and monitoring).
Vendors of R-PHY devices are now able to show major progress.
2. Low Latency DOCSIS is getting a lot of attention
More than ever, low latency networks are key to ensure the speedy website loads, smooth video calling and highly responsive online gaming that today's consumers demand. That's why CableLabs is launching Low Latency DOCSIS (LLD) technology, which aims to decrease latency to just 1 ms for many applications. Are today's devices ready for that change? A series of tests performed with our ByteBlower traffic generator/analyser revealed that there is still a long way to go.
3. Synchronisation: superb interoperability between PTP grandmaster clocks and slaves
When the MAC and PHY layers are physically separated, proper timing and synchronisation becomes challenging. Two essential components of the synchronisation architecture are Precision Time Protocol (PTP) grandmaster clocks and slave clocks. The suppliers of PTP grandmaster clock solutions who attended our testing event (Meinberg Funkuhren, Microsemi and Oscilloquartz) all demonstrated how their grandmaster clocks work seamlessly together with PTP slaves.
4. Modems: first products supporting NBASE-T
2018 saw an increased uptake of the multi-gigabit NBASE-T technology, which allows 2.5 and 5 Gbps Ethernet over copper wire. This year's interop event was the first edition to set the stage for tests of modems that support NBASE-T. With our ByteBlower traffic generator, we were able to successfully reach 2.5 Gbps over the 2.5GBASE-T interface. The maximum speed we measured through one modem was as high as 4.6 Gbps.
With our ByteBlower traffic generator, we were able to successfully reach 2.5 Gbps over the 2.5GBASE-T interface.
5. All eyes on user experience (UX) testing
As video streaming and online gaming must meet unprecedented requirements regarding bandwidth, speed and latency, Excentis plans to offer a user experience testing solution for video (YouTube/Netflix, …) and gaming. The feedback on the sneak peek we gave was very positive. We'll keep you posted on the developments!
Reliable testing? It comes down to first-class equipment and deep-rooted expertise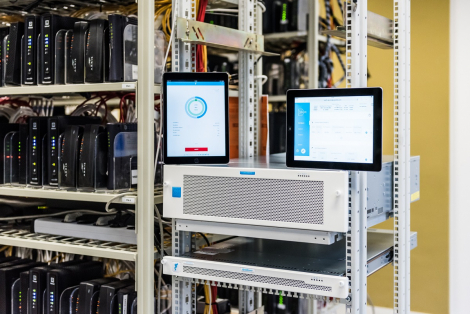 Like every year, the participants tested their devices in the Excentis labs, where they used our ByteBlower traffic generator/analyser. Providing over 300 ports available for testing with a total capacity of 140Gbps, ByteBlower helped participants quickly assess the performance and stability of their network equipment on fixed as well as Wi-Fi networks (even with the new Wi-Fi 6 (802.211ax) standard). Our XRA-31 DOCSIS analyser, which provides real-time insight into MAC layers, helped them find and explore the root causes of issues in no time. Our test experts were at hand to coordinate the tests and support our visitors during the testing process.
Need help testing? Let's discuss your ideas!
Interop participants
We like to thank all vendors who participated in this interop. In the CCAP/Core/RPD/RMD category we welcomed BKtel, Casa Systems, Cisco, Commscope, DCT-DELTA, DEV Systemtechnik, Harmonic, Huawei, Nokia, Teleste, Vecima Networks, Vector Technologies. PTP Grandmaster Clock solutions were provided by Meinberg Funkuhren, Microsemi and Oscilloquartz. The following modem vendors made sure the ecosystem was complete: AVM, Broadcom (reference design), Hitron, Sagemcom, Technicolor, Ubee Interactive.