Wi-Fi stability testing: the key to a reliable wireless internet connection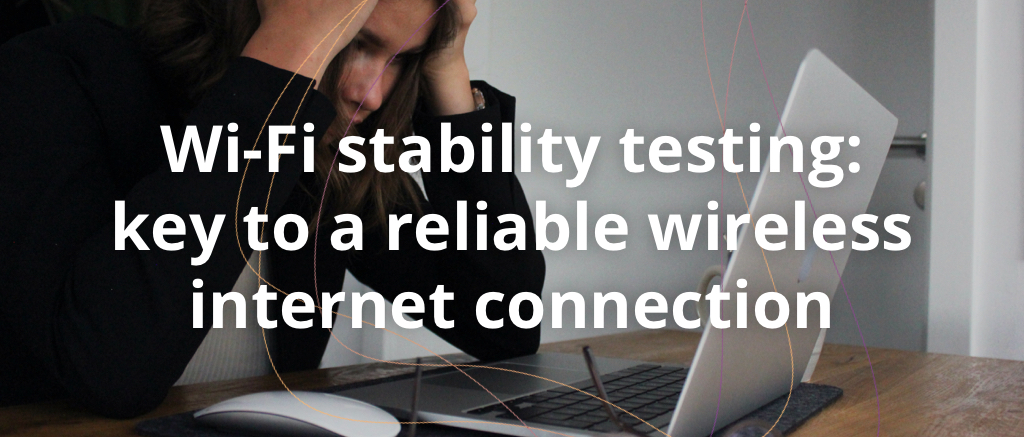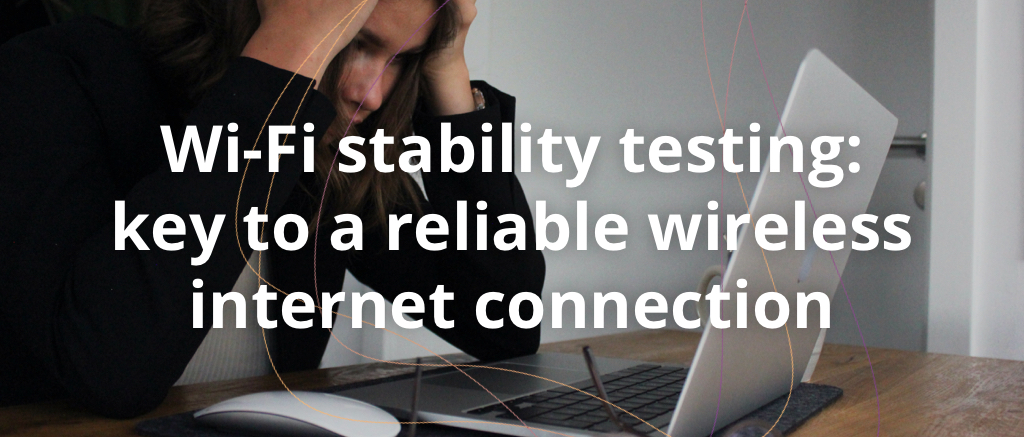 Why is my Wi-Fi connection so bad?
The answer is not always obvious. Diagnosing your internet connection is pretty tough, let alone troubleshooting. Sometimes it's due to the configuration of the devices. Yet the network, too, could make a bad decision. Even wireless mesh networks are not infallible. Here's how you can get you closer to guaranteeing always-on connections.
Expand, improve, overcome
Network equipment manufacturers are constantly enhancing their products and broadening their product range to ensure optimal Wi-Fi stability. Wi-Fi extenders, for example, are a great way to improve the wireless signal quality in all places throughout homes and offices.
Still, to ensure reliable wireless access to every corner of the building, at all times, the access points (APs) – and the network as a whole – should be perfectly configured. And that's no easy feat. How do clients know which access point to choose? And when is the ideal time to automatically switch from one access point to another?
Eureka, here comes mesh!
Wi-Fi Mesh networks to the rescue, then? A wireless mesh network consists of multiple devices installed in separate, nearby locations, which act as a single Wi-Fi network. As they talk to each other, they can intelligently direct clients to the optimal access point.
So, while Wi-Fi extenders require users to manually sign on to a new network to maintain a strong connection when they move away from their router, mesh technology continuously casts the strongest Wi-Fi as clients roam from room to room.
That sounds like the ultimate solution. And yes, mesh networks are indeed one of the most innovative and easy-to-use solutions on the market today.
But still, they do sometimes make bad decisions. The network may automatically switch to another, less favorable access point, resulting in a less stable connection.
Test, test, test your Wi-Fi devices
The key to anticipating network misjudgments and increasing Quality of Experience is testing. Not once, but repeatedly, running many different traffic scenarios with single access points, multiple repeaters or in Mesh on multiple real-life devices (iPhones, iPads, Android phones, …) and in a realistic set-up.
At Excentis, we have years of experience conducting Wi-Fi stability tests for network equipment manufacturers, vendors and operators. On top of our accumulated expertise, we also have the tools and infrastructure to run reliable tests:
Our ByteBlower® Endpoint app, the mobile equivalent of our ByteBlower traffic port, was specifically built to test how the access points of wireless networks perform.
Our unique Wi-Fi test house is a realistic environment, perfect to conduct representative and reproducible Wi-Fi tests.
Here's how the result of Wi-Fi stability tests could look like
On this graph we clearly see stable performance for each tested client device: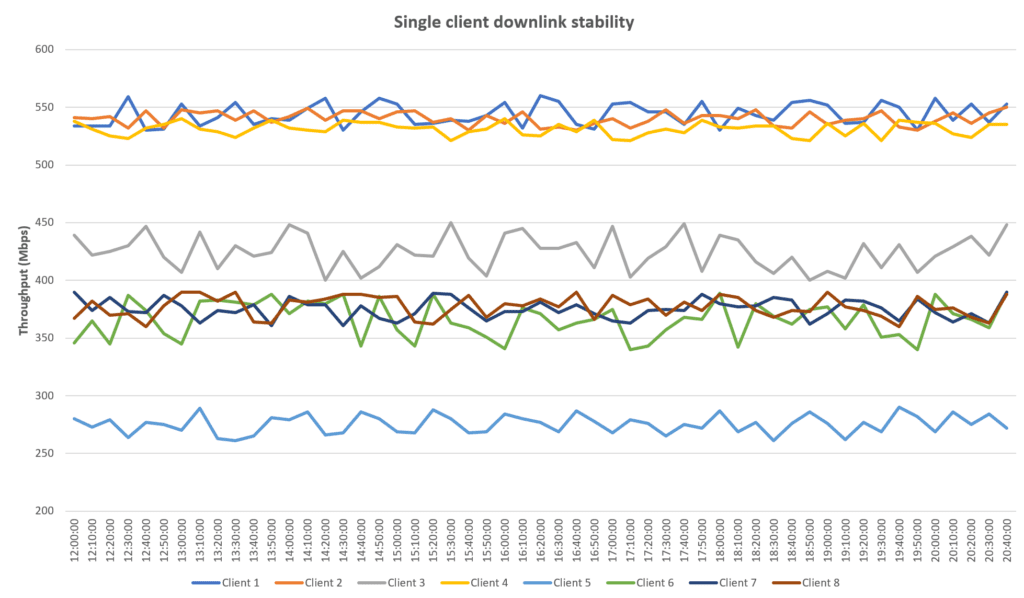 While on the next graph, unstable performance was delivered to Client 2
Unstable Wi-Fi performance. Now what?
If our tests reveal unstable performance, our experts can help you analyze the root cause. Prefer having your engineers do the troubleshooting? They are always welcome in our Wi-Fi house or in the Excentis labs to replicate the situation, understand what's going wrong and resolve the issues.
Or we can do it together – the choice is entirely up to you.
Keen to try out our Wi-Fi testing services?