Scoring a whopping 100% in Download and Upload Data Tests: How we helped PYUR to reduce latency dramatically and increase the user experience of their customers as confirmed by last year's Zafaco rankings!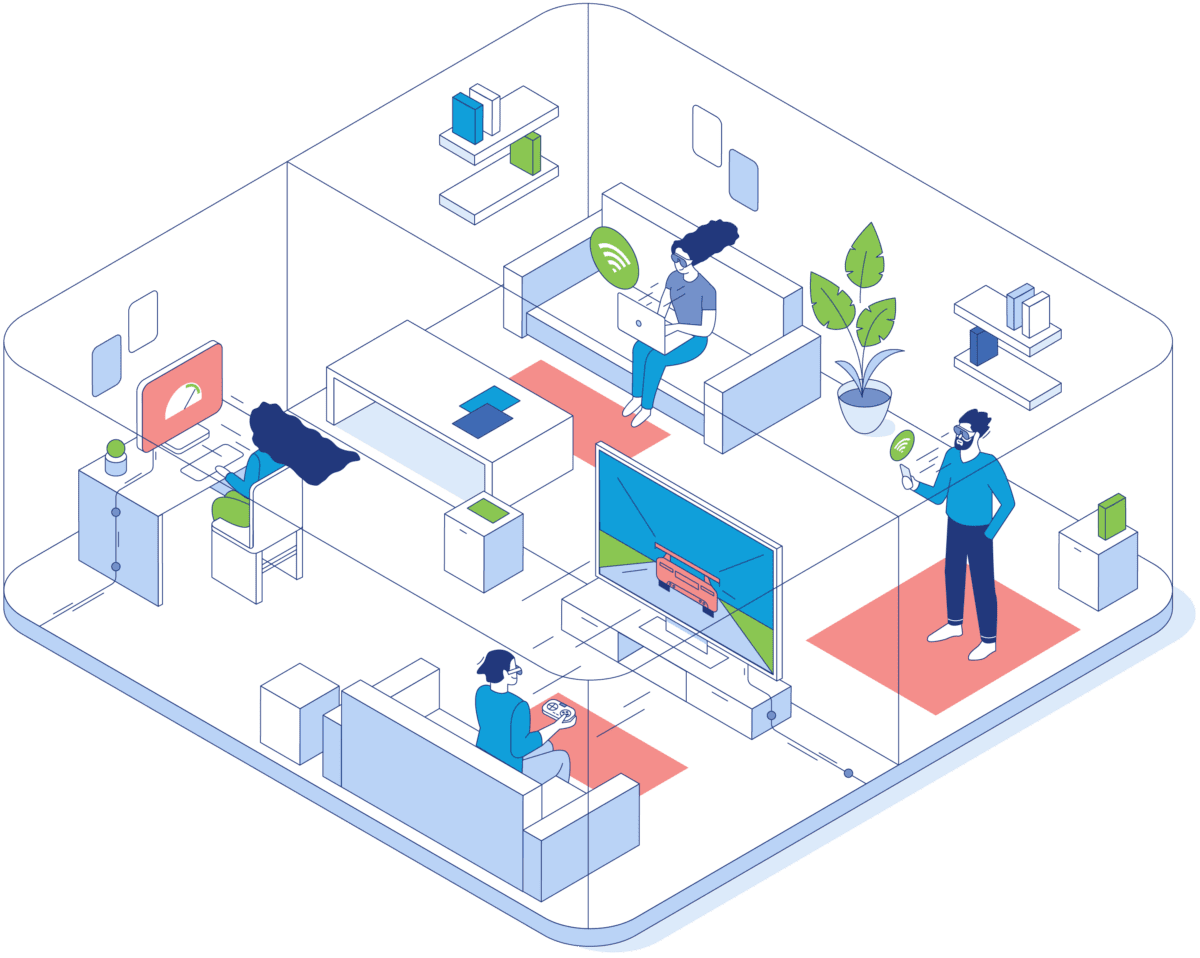 PYUR is the brand of Tele Columbus, one of Germany's leading fiber network operators which offers high-speed internet including telephony and digital TV services. With more than 3 million homes, PYUR corresponds to a national market share of around 1.7%. We're happy to say PYUR has been a long-time client of Excentis.
Zafaco is a service provider in the areas of broadband measurement tools, business intelligence and business service management, providing benchmarking and testing, working primarily for regulatory authorities and telecommunications providers.
Optimizing QOS by lowering latency
PYUR wanted to further optimize their quality of service by lowering latency in scenarios with and without load.
To achieve this, they reached out to Excentis as DOCSIS experts, knowing all the ins and outs of the DOCSIS specifications, and having intimate insights and experience on how to optimize and finetune all the configuration settings on the devices implementing the specifications. Together, we agreed on the high-level approach that Excentis would take:
Measure and establish: Replicate and monitor realistic customer scenarios in the lab using ByteBlower and XRA for extended extensive control, insights, and reporting.
Analyse and consult: On where their current DOCSIS network configuration could be optimized and fine-tuned to lower the latency in scenarios with high network loads.
Approach: Analysis, lab testing and config optimization
We started by developing Python ByteBlower scripts to simulate the HTTP response time measurements for both up- and download, in scenarios with load and without.
ByteBlower is Excentis' own network traffic generator/analyzer that helps you quickly assess the performance and stability of IP networks and network equipment.
These scripts were used on an Excentis lab test setup that replicated the PYUR access network, serving as a base for researching the latency behavior.
As PYUR has their own ByteBlower in use, these scripts also became a core tool for future optimized testing in their own lab.
The latency research showed that when the latency values show to be high, it's most often due to these packets ending up at the end of the upstream buffer, which was already filled with upstream load traffic.
For the upstream transmissions, the "Default Upstream Target Buffer Configuration" and "Maximum Traffic Burst" parameters in the modem configuration file play a key role.
For the downstream transmissions, we focused on the "Active Queue Management" mechanism. DOCSIS defines this Active Queue Management (AQM) mechanism to optimize end-user experience, but the exact configuration consists of numerous parameters. Based on extensive analysis and testing a significantly optimized configuration was proposed to, in the end, increase the user experience.
By carefully optimizing these DOCSIS-specific parameters we were able to achieve up to 5-fold reduction in latency, while at the same time making sure no other systems or processes would be affected in a negative way. This required proper understanding of the specific characteristics of the network, equipment, subscriptions and applications in play, where our deep understanding of DOCSIS over the last 20 years came into play, says Wim De Ketelaere, CTO at Excentis.
(Big) Results
Every year, Zafaco organizes a standardized fixed line test across the service providers to objectively advise on who delivers the strongest complete package of voice quality, internet access and web TV.
Analyzing, tweaking, verifying and deploying these new configuration parameters not only resulted in a boost in overall performance, PYUR even scored a whopping 100% in Download and Upload Data Tests! This wasn't only for our DOCSIS side, but Excentis applied these principles to similar technologies with lower latency as result! This, of course, resulted directly into a better network for the end user, with less latency.

A great result for all stakeholders, Thomas Anders, Director Engineering at PYUR, is happy to report.
Next steps
Next year, we will be looking in to further optimize their network and increase the quality of service to their customers by, for example, looking at the opportunities that Low Latency DOCSIS could bring to the network.
How can we help you?
Interested in how you can increase the quality of service for your clients, and lower your costs?
Contact us, and let's have a coffee.