Content sharing, syncing, streaming protocols for Wi-Fi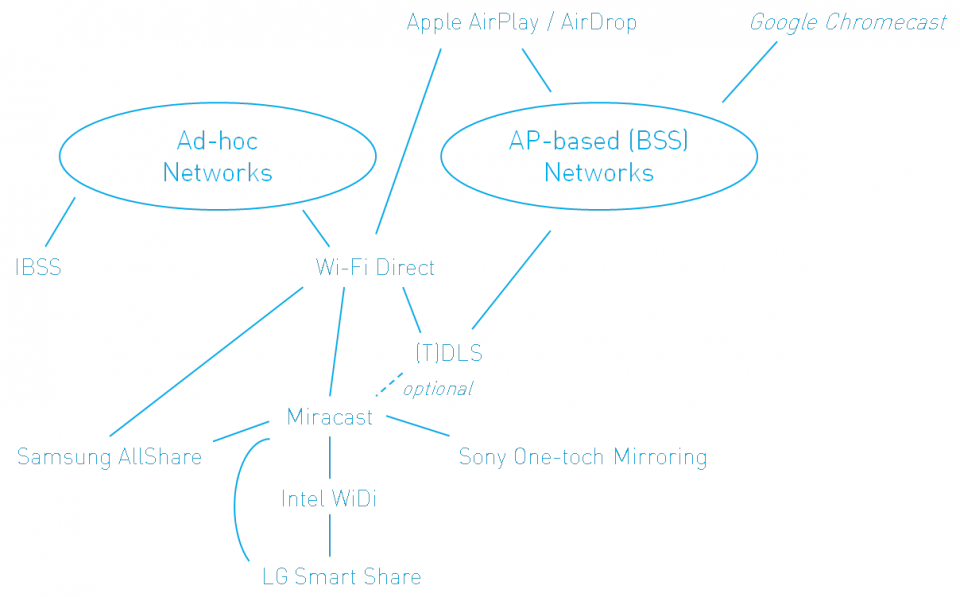 With smartphones, tablets, laptops and smart TVs ruling the world, sharing and streaming content from one device to another over Wi-Fi becomes more and more important. The list of new protocols to achieve this goal is still booming. Companies are trying to convince the customer with promising terminology like Apple® AirPlay®/AirDrop®, Samsung AllShare™, Intel® WiDi, Sony® One-touch Mirroring™ and so on. But how do these protocols work; how do they relate to Wi-Fi CERTIFIED™ standards like Wi-Fi Direct®, (T)DLS® and Miracast®; and most important: what about interoperability? Let's find out!
Wi-Fi is the new wire
In 2013, more than two billion Wi-Fi-enabled devices shipped (according to ABI Research, 2014). The market is forecast to continue to grow rapidly over the next five years as the technology is adopted across a wide variety of markets, including consumer, mobile, automotive, and emerging markets. Wi-Fi is widely available in homes, Wi-Fi hotspots, and enterprise environments, and is found in many types of devices, including laptops, cameras, media players, printers, TVs, gaming devices, tablets and mobile phone among others.
Most of the time Wi-Fi devices are connected through a BSS (Basic Service Set), which means that they are connected to a central AP (Access Point). Before we can connect to such an AP, we need to know the SSID and, if enabled, the security credentials. However, there are certain situations where this kind of architecture with a central AP is undesirable; a few examples:
A sales representative visits a new potential customer and wants to stream a commercial video from his tablet to the customer's Smart TV, without having to connect to the customer's AP.
A hotel wants to allow their departing guests to print their boarding ticket on the hotel's Wi-Fi enabled printer, without requiring the guest to connect to an SSID.
Two friends want to exchange some pictures and videos with their high-end 802.11ac-capable smartphones as fast as possible, while they remain connected to an old 802.11g AP.
Two parents want to use their smartphones as baby monitor, but don't have access to an Access Point to join an existing network.
In the early days of Wi-Fi, there was a feature, called 'Ad-hoc' (or IBSS) to allow Wi-Fi devices to connect with each other without the need of an AP, but this was cumbersome to configure and customers demanded more user-friendly solutions, especially after Apple came up with AirPlay™.
These user-friendly (I let the reader decide if this requirement is fulfilled) solutions can be split up in two large groups: the official (certified) standards from the Wi-Fi Alliance® and the solutions, created by vendors, which build upon/extend these official standards or, depending on the vendor, are completely proprietary. Let's start with an overview image to see how all these solutions relate to each other.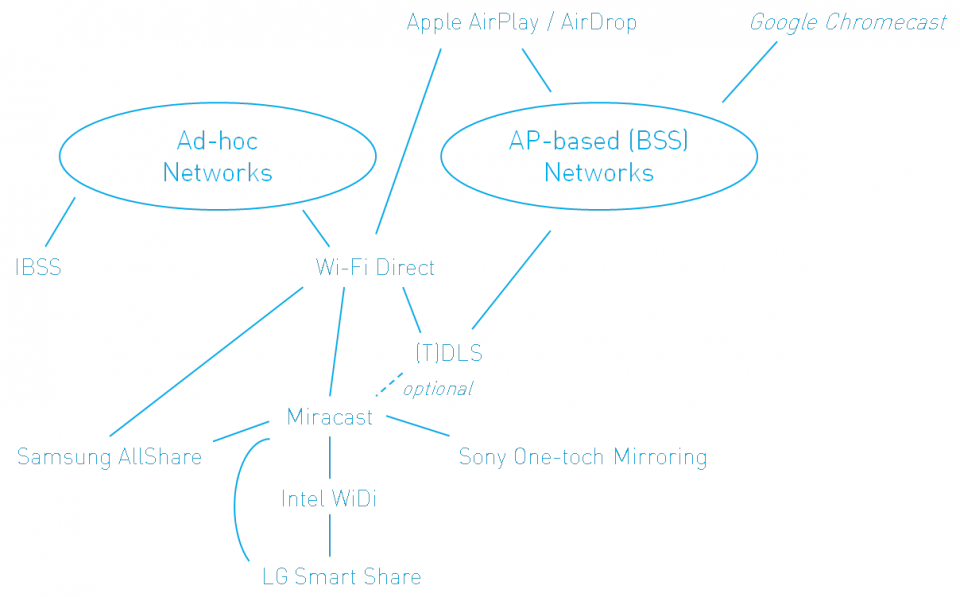 And now it's time to dive into each of these protocols. Let's take a look at what falls under the Wi-Fi alliance umbrella first and then continue the overview with the various implementations.
Wi-Fi Alliance
The Wi-Fi Alliance is a global non-profit industry association. The more than 650 members come from across the Wi-Fi ecosystem and share a vision of seamless connectivity. Since 2000, the Wi-Fi CERTIFIED seal of approval designates products with proven interoperability, industry-standard security protections, and the latest technology. The Wi-Fi Alliance has certified more than 20,000 products.
Wi-Fi Direct
Wi-Fi CERTIFIED Wi-Fi Direct is a certification mark for devices supporting the technology to connect directly with each other, making it simple and convenient to do things like print, share, sync and display.
Wi-Fi Direct devices have Wi-Fi's traditional strengths…
Throughput and range of traditional Wi-Fi technology
Works with legacy Wi-Fi CERTIFIED devices
Latest-generation security: WPA2®
Easy to set up and protect with Wi-Fi Protected Setup®
… and important new capabilities.
Devices find each other automatically
Devices can see what other devices can do (e.g., print)
Sophisticated power management
Devices can connect to each other while staying connected to the internet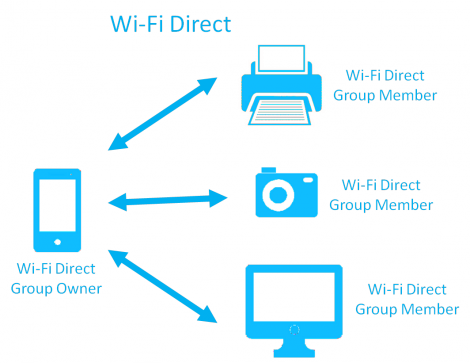 (T)DLS
Wi-Fi CERTIFIED TDLS (Tunneled Direct Link Setup) is a certification program for devices implementing technology enabling them to connect directly to one another after they have joined a traditional Wi-Fi network (BSS). The tunneled version was introduced to allow TDLS capable devices to setup a session through an AP that is TDLS agnostic. While Wi-Fi Direct is designed to create a wireless network between devices without the need of an AP, (T)DLS is designed to enhance the throughput between devices on an existing wireless network (AP or Wi-Fi Direct based).
As a result, TVs, smartphones, cameras, printers, PCs, projectors, and gaming devices, for example, are able to connect directly to each other to transfer content and share applications easily and as fast as possible (not limited by the AP's maximum speed). In the home and enterprise environments, TDLS technology greatly enhances the efficiency of communication between different devices in a network, such as streaming (video and audio), data migration and data backup.
The establishment of direct links between TDLS-certified devices requires no user intervention. Wi-Fi TDLS products are based upon the IEEE 802.11z standard amendment. They have been tested and certified for this technology in addition to core interoperability and current-generation WPA2 security.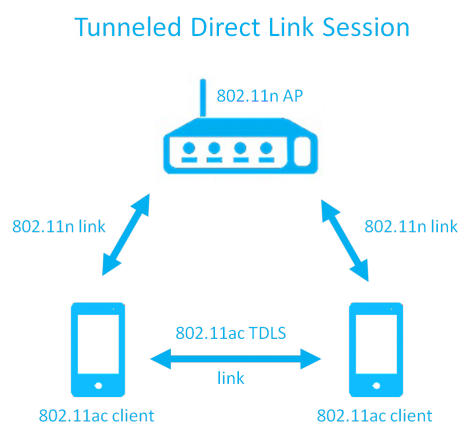 Miracast
Wi-Fi CERTIFIED Miracast is a solution (based on the Wi-Fi Alliance Wi-Fi Display Specification) for seamlessly displaying (mirroring) multimedia between devices, without cables or a network connection. Users can do things like view pictures from a smartphone on a big screen television, share a laptop screen with the conference room projector in real-time, and watch live programs from a home cable box on a tablet. Miracast connections are formed using Wi-Fi Direct, so access to an AP is not needed. Miracast optionally also supports TDLS.
For video, Miracast supports the ITU-T H.264 video codec (aka Advanced Video Coding [AVC]) for high-definition video. It supports the Constrained Baseline Profile (CBP) and the Miracast-specific Constrained High Profile (CHP), at levels ranging from 3.1 to 4.2. Supported display resolutions include common Consumer Electronics Association (CEA) formats, Video Electronics Standards Association (VESA) formats, and handheld formats.
Although it was not designed for audio streaming purposes, Miracast supports streaming audio that accompanies a video stream like Linear Pulse-Code Modulation (LPCM), Advanced Audio Coding (AAC), and Dolby Advanced Codec 3 (AC3) modes.

Unfortunately, there are 2 big issues with the Miracast technology:
Vendors are not mandated to label their Miracast-capable devices with the Miracast-brand, leading to customers not knowing which devices are Miracast-ready.
Although Miracast is a certification program, designed to bring interoperability between different vendors, a lot of interoperability issues still exist (http://i.imgur.com/I2QmeZe.jpeg).
Implementations
Many vendors have tried to come up with a solution to bring a clean and slick interface to the user for these features like sharing a picture, printing a document, streaming a video. Some of them are building these solutions using one or more of the standards from the Wi-Fi Alliance; however, there are also vendors that just started from scratch.
Specifically for audio/video streaming, one can easily say it all started with Apple's AirPlay and since that, all vendors (and even the Wi-Fi Alliance itself) have tried to come up with their alternatives for this popular Apple-only feature.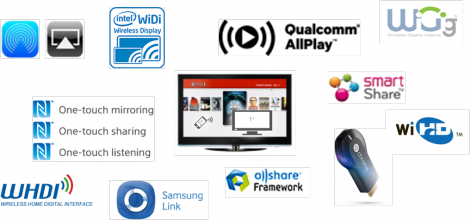 Intel WiDi
Intel WiDi is an Intel technology based on Miracast and provides following features:
Quick and reliable connections
Low screen-mirroring latency
Superior video and audio quality
Smooth HD video playback for wireless display.
Intel WiDi is targeted for Intel-based PCs, laptops and tablets (native support from Windows® 8.1 on), but never saw much uptake as not many displays (like TVs) implement the WiDi receiver capabilities.
Samsung AllShare/Link™
AllShare is Samsung's implementation of the Miracast protocol. All the latest devices from the Galaxy® range support this technology, as well as their Smart TV range.
Samsung recently started to bundle the AllShare technology in a service called Samsung Link, which also supports cloud-based sharing of content on Samsung devices.
Sony One-touch Sharing/Mirroring/Listening
Sony has come up with a technology to set up sessions for content sharing, screen mirroring, audio streaming using NFC (Near Field Communication) technology. By simply making physical contact ('tapping') between two devices you would like to pair (Sony Xperia™ smartphone/tablet, Sony BRAVIA® tv, Sony's wireless headphones, …), a wireless connection is established between them which allows content sharing, screen mirroring, audio streaming from one device to the other.
Most of these features are based on the Wi-Fi Alliance standards Wi-Fi Direct (Sharing/Mirroring) and Miracast (Mirroring).
LG SmartShare™
LG has a feature called SmartShare incorporated in their webOS® operating system (LG Smart+ TV products). SmartShare is a media platform that supports screen mirroring both from and to your TV, streaming content from your mobile device to your TV, or just controlling your TV over Wi-Fi through dedicated apps on your smartphone/tablet or through a dedicated software packet on your laptop. Wi-Fi connections between the devices can be established using an existing BSS or Wi-Fi Direct.
Next to Smart Share, LG's webOS also supports Miracast screen mirroring, with, for Android devices, NFC-support to pair the devices (much like Sony's One-touch Mirroring technology) and, for Intel-based devices, support for Intel WiDi technology.
Apple AirPlay/AirDrop
AirPlay is Apple's wireless display standard. It allows you to stream video from an iPhone®, iPad®, or Mac® to an Apple TV®. Using AirPlay, you can display the contents of your Mac's desktop, start a video in an app on your iPhone and "push" it to your TV, or play a game on your iPad and mirror your display on your TV.
Apple's AirPlay standard is flexible enough to work in two different ways. It can be used to just mirror the contents of a device's display, or use a streaming mode that is smarter. For example, you could play a video in an app on an iPhone and use the playback controls on your iPhone to control the video on your TV.
AirDrop is Apple's wireless standard for transferring files between Apple devices. Since Yosemite (for Mac computers) and iOS 8, it is also possible to share between a Mac and iOS devices. While AirDrop in iOS 7 was using the Bonjour protocol over Bluetooth to discover nearby devices, iOS 8 introduced the support for Wi-Fi Direct sessions (though it's not compatible with generic Wi-Fi Direct implementations like the one Android uses), provided that the device support it (iPhone 5/iPad 4th generation/iPod Touch® 5th generation and newer).
AirPlay and AirDrop work very well, but they have a big limitation — they only work with Apple devices.
Qualcomm® AllPlay™
Qualcomm's AllPlay is a whole-home wireless audio technology that consists of two parts:
A Qualcomm Atheros® 2×2 dual-band Wi-Fi SoC with AllPlay media player software to be built into wireless audio receivers.
AllPlay SDKs for iOS and Android™.
AllPlay supports following use cases:
Using music-management apps provided by the suppliers of AllPlay-enabled audio products, an Apple or Android mobile device will be able to stream one or more locally stored songs to one or more speakers at a time.
AllPlay-compatible music-service apps (like Rhapsody®, Napster®, DoubleTwist®, …) will display an AllPlay icon when they detect AllPlay-enabled speakers and music systems on a Wi-Fi network and users will then be able to select the speakers to which they want to send cloud-based music. To conserve mobile device battery power, the content isn't sent from the mobile device to AllPlay speakers. Instead, one AllPlay-enabled speaker designated as the master speaker fetches content from the cloud and then redistributes the content to other speakers.
An AllPlay app can double as a controller to direct one or more songs at a time from a DLNA-enabled PC or NAS drive to one or more speakers at a time.
AllPlay offers advantages over relying on a mobile device's DLNA and Apple's AirPlay technology to send music to speakers as these technologies allow mobile devices to stream audio to only one speaker at a time via a Wi- Fi network. AllPlay-equipped mobile devices, in contrast, can stream on a peer-to-peer basis in direct mode over Wi-Fi to multiple speakers at a time, and they can do it without connecting to a home's Wi- Fi network.
Other protocols that didn't make it to this blogpost
WHDI(Wireless Home Digital Interface): a protocol that supports uncompressed HD signal up to 1080p resolution in the 5Ghz unlicensed band, with support for 3D TV and 5.1 surrounding sound as well, but very few products support it and since 2013 it has been very quiet on their website/LinkedIn®/Twitter® account.
WirelessHD: a specification based on a 7 GHz channel in the 60 GHz Extremely High Frequency radio band which is said to provide a Full HD wireless video link with perfect video quality and no gaming lag for a stellar gaming experience. Again, very limited support (Alienware™ M17x (2011) laptop) and no news since 2013 are the reasons why we don't discuss it any further.
WiGig Display Extension (WDE): WDE allows wireless transmission of audio-visual data and, as such, supports wireless implementations of High-Definition Multimedia Interface (HDMI) and DisplayPort interfaces, as well as the High-bandwidth Digital Content Protection (HDCP) scheme used to protect digital content transmitted over those interfaces. It scales to allow transmission of both compressed and uncompressed video. WDE is a Protocol Adaption Layer (PAL) on top of WiGig, which itself is based on the 802.11ad specification and features a 7 GHz channel in the 60 GHz Extremely High Frequency radio band (like WirelessHD). The reason why it is not discussed in this blogpost, is because it is still very early days for this technology; the Wi-Fi Alliance, which has the WiGig technology under its wings, says the technology will hit the market in 2016.
Google Chromecast™: Chromecast is a media streaming device that connects to the HDMI port of your TV. It allows you to stream video content from your mobile device (Android/iOS/Windows-laptop/Chromebook™) to your TV or, just as with Qualcomm's AllPlay technology, the Chromecast dongle can also stream online content directly from the internet, preserving battery power from the mobile device, which, in that case, just acts as a remote. However, both the mobile device and the Chromecast dongle need to be connected to the same AP (BSS) and so nor Wi-Fi Direct, nor (T)DLS are supported by Chromecast, which is also the reason why we don't discuss it any further here.
DIAL™ (Netflix/YouTube): DIAL (or "Discovery And Launch") allows mobile devices running a DIAL-enabled app to find other compatible devices, primarily smart TVs or STBs, on the same network (BSS). From there, it will automatically open the app on that device as well. In practice, that means you can start up Netflix® or YouTube™ on your phone, connect to your TV, see the app open there, and start browsing for movies to play. Again, as this is just a discovery protocol that runs over a standard BSS, we don't discuss it further.
DLNA: The Digital Living Network Alliance has come up with a set of guidelines, based on existing standards (UPnP), that allow manufacturers to participate in the growing marketplace of networked devices. These guidelines are split up in sections of key technology components, like 'Network and Connectivity', 'Device and Service Discovery and Control', 'Media Format and Transport Model', etc. Just as with the previous two, DLNA just runs over a standard BSS (an basically over any wireless/wired IP network) and so it is not discussed further here.
Conclusion
It seems that everybody, from the Wi-Fi Alliance over SoC producers up to the mobile device vendors, is trying to come up with its own holy grail technology for content sharing, syncing and streaming over Wi-Fi. While some of these technologies and protocols work really well (we might look at some examples in detail in future blog posts), it often comes down to finding out which of your devices support the specific feature you want to use and often you need to stick to the same vendor.
I think that the biggest reason for these interoperability issues is the fact that these features always require a 'sender' on one side and a 'receiver' on the other side. While a vendor, at first, might lean towards implementing an existing (standardized) solution for its 'sender' device, he might be forced to come up with a new solution as the targeted 'receiver' devices, currently on the market, don't yet support the existing solution or lack important features. A clear example for this assumption is the fact that Google first introduced Miracast into the Android OS, but as the TV vendors were not picking up the Miracast standard fast enough, Google decided to solve the problem themselves by bringing the Chromecast dongle to the market as an end-to-end solution.
The Wi-Fi Alliance has an important role to play in this story and that is to bring 'sender' and 'receiver' vendors closer to each other and helping them with standardized protocols.